First I am not Talking about Other blogging Communities.I am only Talking about Indiblogger and the Questions which arises after some one gets high votes and is on home page but is that what you really want ? , Does the famous tag on Indiblogger guaranties you regular traffic? Here is What I think
1.My Other Blog Which I am not giving attention now a days still get traffic due to SEO and labels.And I hav enot shared anything on that blog/Indiblogger from past 8 Months.
2.Contest and Indispire Posts do get high votes for me as well around 40-50.My last three posts(NOW 4 including this one) are tops posts but they did not get even 100 Votes.They are bound to get votes which is not equal to traffic mind you.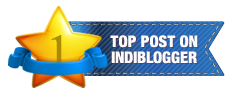 3.Getting onto homepage is completely different thing as it depends on timing of the posts I have seen a post with 19 Votes in top 10 as well.So Again Not a big Question.
4.
Comments
like
"nice post" , "well done"
do irritate but if the content is good and reader is serious then he/she is bound to come back.
5.I
don't
take negative comments to heart , after all traffic is what all matters ;), and what would I end up doing If I react to them ,Nothing Useful right ?
6/if the Question is how long can this game is played (of Votes),My answer is till eternity,The number of votes does not matter and should not matter , the posts which promotes the brand even by flaunting rules is bound to win , no matter what and its not a case of sour grapes.The posts which makes a brand Trending is what every brand whats.
7.Twitter/FB Page came work wonders only if you are really active.You know What I mean,
8.Content is the King but the King cant stay alone without the state and an Army and
servants
of-course.B
e it widgets,platforms,traffic
organic
,SEO,activeness and uniqueness.
9.I published my story no one bought the book
Desire v/s Destiny
, But I
don't
care , I now am a freelancer writer even after I was bashed up by a famous IB blogger for being a porn writer even when I was writing erotica,he still is famous and later on he said "he did not knew the difference".It did not stop me , Its only the passion for writing which makes you write more Aint it?
10.I have never won any contest , Not even have got the valid entry prizes on IB but that does not stops me from writing and sharing.Votes does not matter , trust me.
11.I personally never cared about votes , I always cared about traffic be it from IB or anything else and IB is not even been in top 10 traffic generators.
12.There are strong social media players which generates traffic , IB votes can make you happy once in a while but even your heart knows they dont really matter if you are not getting that much visitors from IB.The number of votes is never equal to the traffic IB generates.
13.Blind voting is every where If this will make you lose heart then its your problem only and only you can sort that out.
Cheers to Blogging and Cheers to IB.
Baki sab moh maya hia!